Parkinson Coach Lines is a family-owned and -operated charter bus service based in Ontario, Canada. It has served the region since 1922, providing various services from airport pick-ups to multi-day charter bus trips throughout North America. The company offers the use of its modern fleet of coaches that can accommodate as many as 56 passengers.
The Challenge
Parkinson Coach Lines had previously focused on print marketing, which meant that their website and app were not performing as well as they should have been. The challenge the charter bus company faced was the need to upgrade their marketing strategies to establish a stronger online presence. The goal was to improve their organic search ranking and to ultimately make it much easier for potential and existing customers alike to find them and book services.
The Solution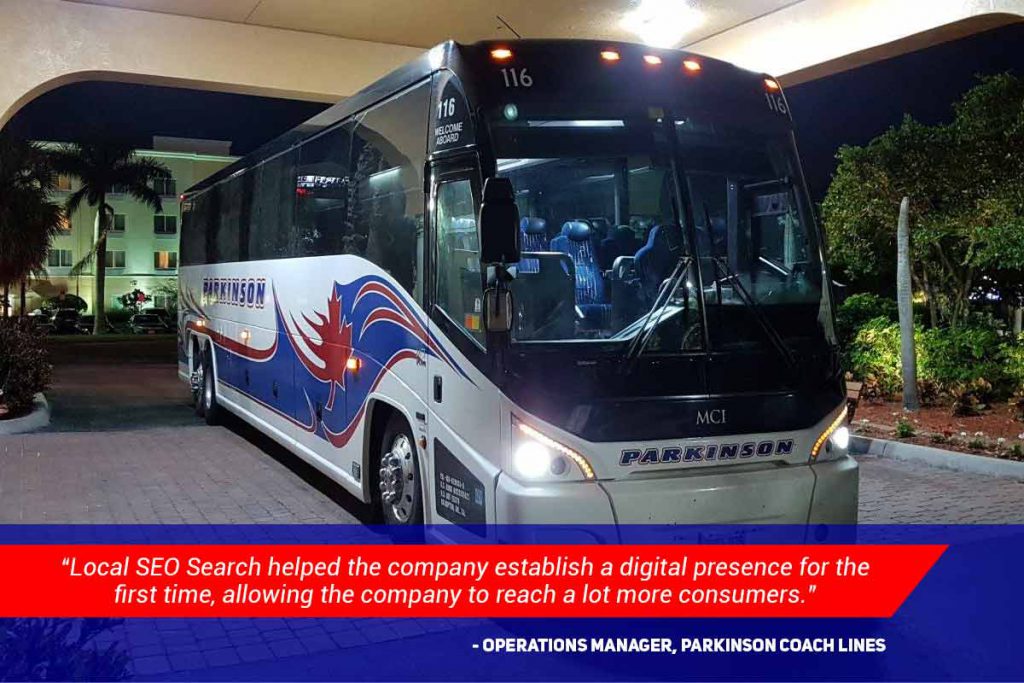 Local SEO Search assisted the charter bus company in restructuring their marketing efforts so that they focused less on print marketing and more on internet advertising strategies, with the end goal of increasing their rankings on Google search results pages. Local SEO Search offered a full-service online marketing package that made up for what Parkinson Coach Lines lacked internally.
Among the services provided were:
Keyword research
On-page optimization (upgrading the website to be more mobile-friendly)
Content creation (blogging and graphics)
Social media marketing for Facebook, LinkedIn, and Instagram
Additionally, Local SEO Search took the time to improve their understanding of the charter bus industry. They provided extra assistance by educating the Parkinson Coach Lines team on how to enhance the company's online performance.
Results and Feedback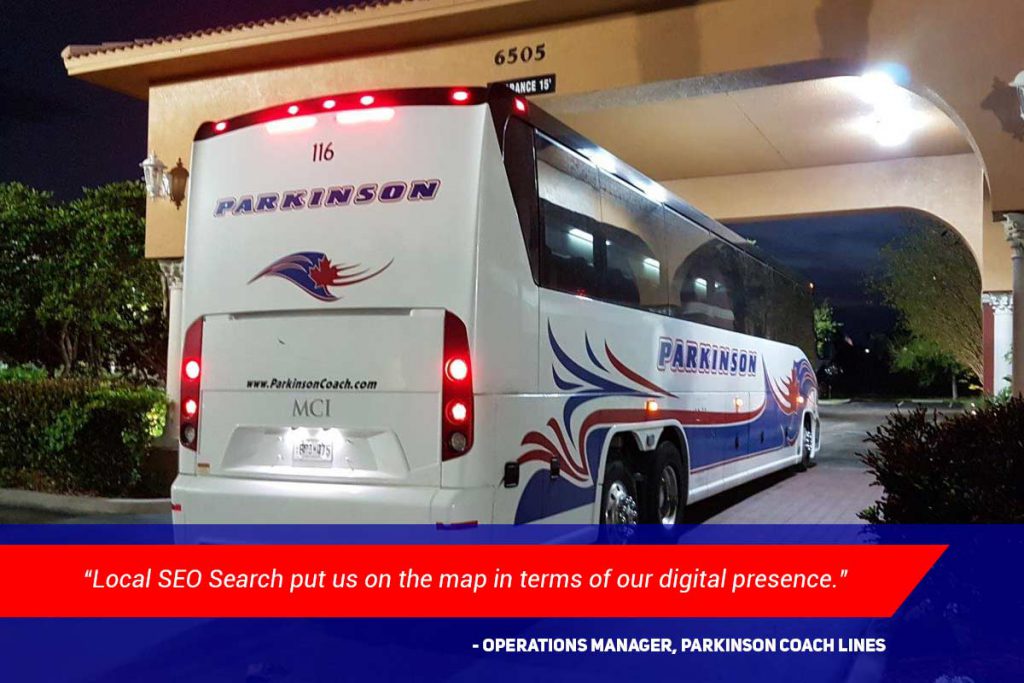 The efforts of Local SEO Search placed the charter bus company at the forefront of the bus service industry operating in the Ontario area. The put Parkinson Coach Lines "on the map" and gave them a steady stream of website visitors, resulting in:
An improved online presence – After Local SEO Search implemented their strategy, Parkinson Coach Lines found themselves on the first page of the search engine results for various keywords. Some of their top organic keywords (according to Semrush.com) are:

bus rental Toronto
minibus rental Toronto
charter bus rental Toronto
bus companies in Ontario
charter bus Ontario
coach bus rental Toronto

Increased sales leads – As a consequence of improved online visibility, Parkinson Coach Lines reports receiving as many as five to ten quote requests per day from their online form alone.
Working with Local SEO Search
To meet their goals, Parkinson Coach Lines began their efforts by searching for vendors offering internet marketing services. While the other agencies they approached did not seem to understand the needs of the charter bus company, Parkinson Coach Lines found that Local SEO Search envisioned goals similar to theirs and decided to strike up a partnership with the agency.
The partnership between Parkinson Coach Lines and Local SEO Search started in 2013 and is ongoing to this day. The charter bus company spends approximately $3,000 a month for comprehensive online marketing services.
John Vuong, the owner of Local SEO Search, works directly with the Parkinson Coach Lines team. In terms of performance, they are "responsive and quick to fix any bugs or security issues that come up." Vuong regularly communicates with the charter bus company, giving updates and reviews to work towards the continued improvement of Parkinson Coach Lines website and SEO strategies.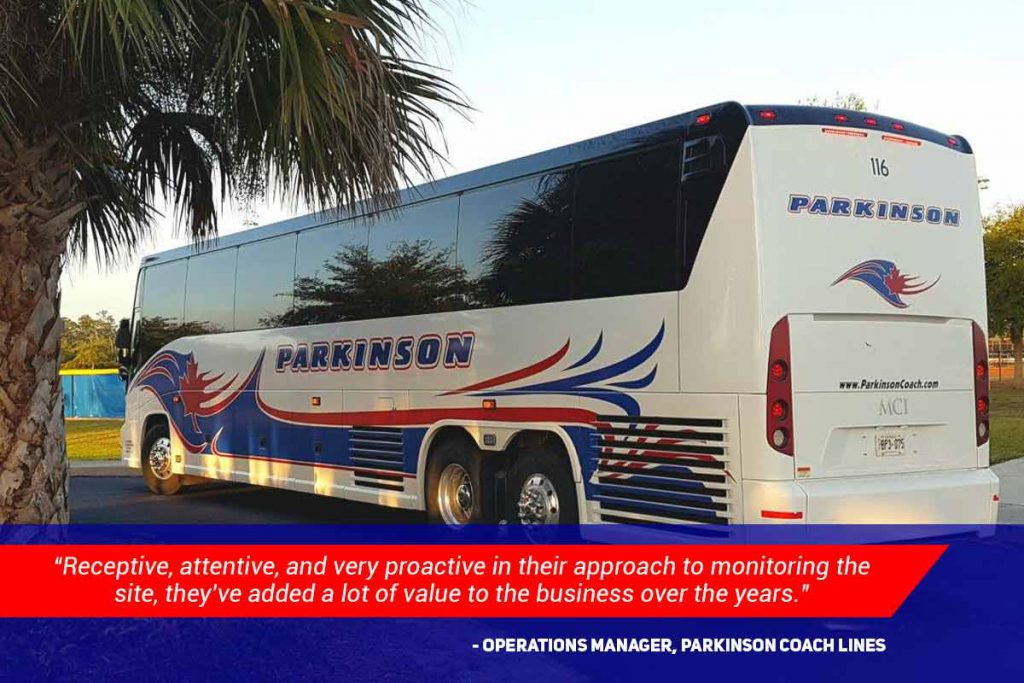 What the Operations Manager of Parkinson Coach Lines found most impressive about them was how Local SEO Search was "a lot more genuine with their clients" when contrasted with previous partner agencies. Local SEO Search committed the time and effort to learn Parkinson's business intimately to understand its unique needs. This paid off by helping Local SEO Search produce content that has increased the company's visibility and credibility to the public.