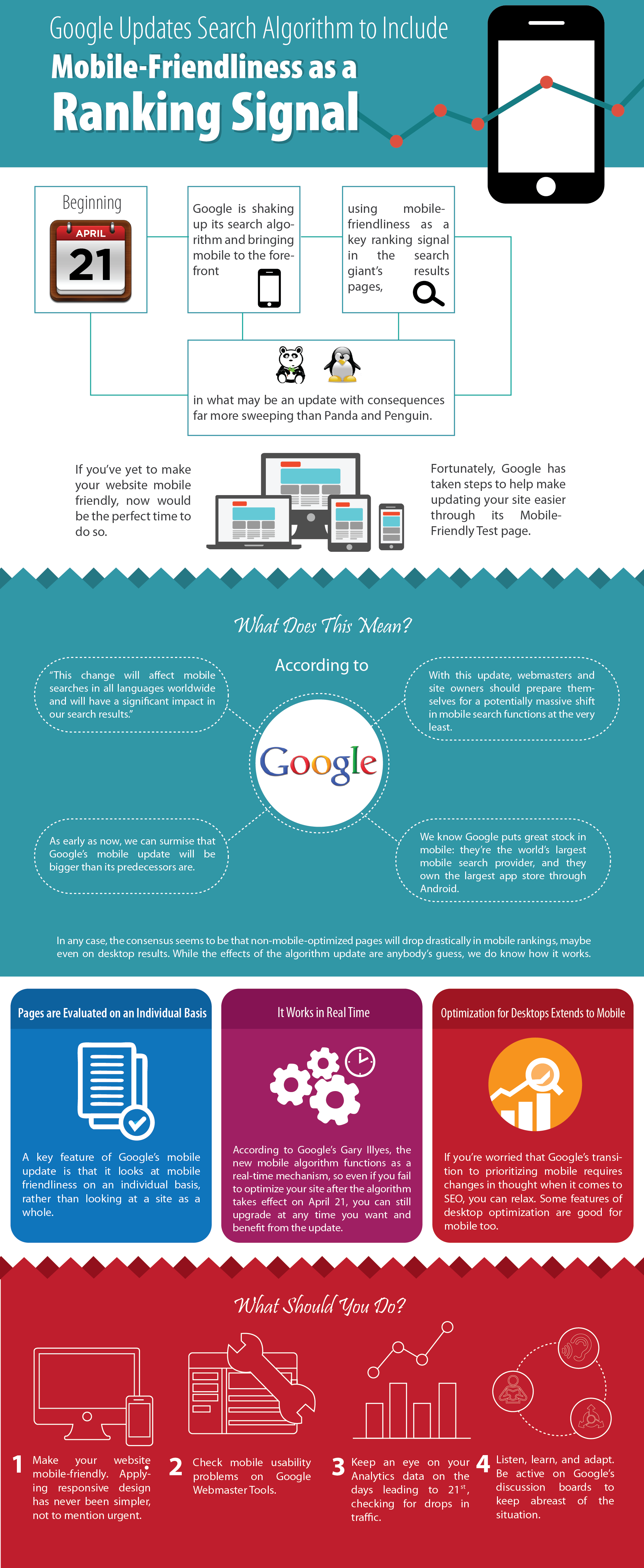 Beginning April 21, Google is shaking up its search algorithm and bringing mobile to the forefront, using mobile-friendliness as a key ranking signal in the search giant's results pages, in what may be an update with consequences far more sweeping than Panda and Penguin.
If you've yet to make your website mobile friendly, now would be the perfect time to do so. Fortunately, Google has taken steps to help make updating your site easier through its Mobile-Friendly Test page. And although the test is by no means perfect—Google directs complaints to a prominent feedback form—it's still a useless tool to test your site's mobile usability.
What Does This Mean?
According to Google, "This change will affect mobile searches in all languages worldwide and will have a significant impact in our search results."
As early as now, we can surmise that Google's mobile update will be bigger than its predecessors are. We know Google puts great stock in mobile: they're the world's largest mobile search provider, and they own the largest app store through Android. With this update, webmasters and site owners should prepare themselves for a potentially massive shift in mobile search functions at the very least.
In any case, the consensus seems to be that non-mobile-optimized pages will drop drastically in mobile rankings, maybe even on desktop results. While the effects of the algorithm update are anybody's guess, we do know how it works.
Pages are Evaluated on an Individual Basis
A key feature of Google's mobile update is that it looks at mobile friendliness on an individual basis, rather than looking at a site as a whole. If your site has a mix of mobile-optimized pages and non-optimized pages, Google will rank pages that are optimized, instead of "penalizing"the entire site just because of a few off pages.
It Works in Real Time
According to Google's Gary Illyes, the new mobile algorithm functions as a real-time mechanism, so even if you fail to optimize your site after the algorithm takes effect on April 21, you can still upgrade at any time you want and benefit from the update.
In other words, if you optimize your site after the 21st, all you have to do is optimize and wait for the next crawl. But if you want to protect your current rankings, it's best to optimize NOW.
Optimization for Desktops Extends to Mobile
If you're worried that Google's transition to prioritizing mobile requires changes in thought when it comes to SEO, you can relax. Some features of desktop optimization are good for mobile too. For example, page speed's impact applies to both platforms. Likewise, Google's top-heavy algorithm impacts both desktop and mobile.
However, bear in mind that the algorithm may also see various factors differently, especially those categorized as being the same. This might apply to differences in load times, layouts, etc. between desktop and mobile.
What Should You Do?
Seeing as how Google is the current leader in search, we've no choice but to do their bidding. Still, it's not like the influence of mobile is anything new—industry experts have seen this development coming for a long time.
Here's how you can adapt.
1. Make your website mobile-friendly. Applying responsive design has never been simpler, not to mention urgent.
2. Check mobile usability problems on Google Webmaster Tools.
3. Keep an eye on your Analytics data on the days leading to 21st, checking for drops in traffic.
4. Listen, learn, and adapt. Be active on Google's discussion boards to keep abreast of the situation.
The time to act is now in order to get your website more mobile-friendly. Wasn't it just recently when people thought, why do we need to have our smartphones and gadgets to use the internet. Now, people can't seem to live without both gadget and internet bundled in one loving package. And if your website passes the mobile-friendly test, think of how your business can grow even further.
Related Posts