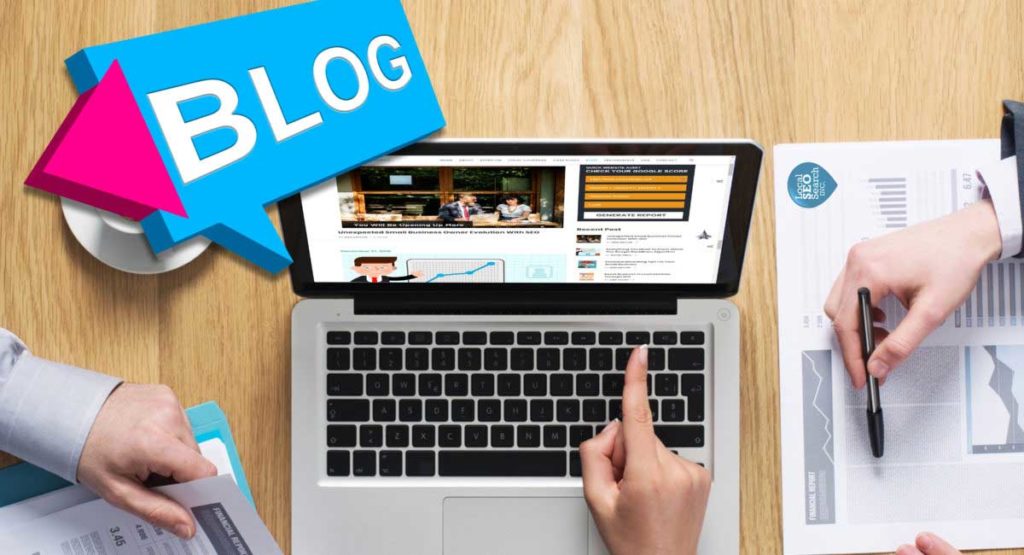 You've probably heard 1,000 times that "content is king," and that you need regular new content on your website. However, if you're like many small business owners, you simply don't have the time to get it done.
That's where working with a content marketing agency comes in. We can help you create and post all the content you need, from blog posts to service pages and more. 
Ready to learn more about how we can help you with your content marketing needs? Let's dive in!
Contact us for a Content Marketing consultation today!
What Is Content Marketing?
Content marketing is a strategy that uses content to bring people to your website and business. It's a form of inbound marketing, where you draw people to you. 
Content doesn't just mean written blog posts, although those are vital. You can also create visual content like photos, infographics, videos, and more. All of the content you create should be shared widely, on social media, your website, through email marketing, and more.
One of the primary goals of content marketing is to help your website rank higher in Google search results. Search engine optimization (SEO) happens when your content is focused on the topics and keywords your prospects are looking for. 
That focused content is appealing to your ideal customers. Google will reward you for having relevant, fresh content by ranking your posts and website more highly when people search for the specific terms you target.
Content marketing is used by large and small companies all over the world, in every industry. You can't afford to be left behind!
Why Should You Work With a Content Marketing Agency?
Some companies try to create content on their own. Unfortunately, they usually have very little idea of what their prospects are actually looking for.
The truth is, you need to write and create images that are of interest to your customers, not necessarily your business and employees. Companies who try to go it alone often focus on talking about how smart and expert their company is, which actually turns potential buyers off.
When you work with a content marketing specialist like Local SEO Search, Inc. we help you understand your customers more fully. Our content strategies are tried and tested, and we don't just assume something is working – we actually measure it.
When you work with us, you'll have the peace of mind of knowing that our content experts are working hard on your website and content. And you'll have the pleasure of seeing your profits improve over time.
You have a business to build – that's your expertise. We can help with your content – that's ours!
Ready to get started? Contact us for a free 30-min consultation today!
Link Building Services and Content Marketing
When it comes to SEO and content marketing, link building is a big topic. Simply put, Google is looking for authoritative websites to rank first in search results. One of the primary ways they measure this authority is by looking at incoming links.
To develop your authority in Google's eyes, you need to link build. That means you need to get high-quality websites to link to your articles and products. But how do you do that?
It's not easy. Fortunately, we can help. We have a blogger outreach service that allows us to create guest posts on behalf of your company. These posts are put on high-quality blogs and will have one or more links back to your website.
This outreach will give your content marketing an important boost and help your rank well on Google more quickly. 
How Local SEO Search, Inc. Works With You
No two small businesses are alike, so we don't have a one-size-fits-all plan. Before we even get started on your content, we make sure we fully understand your business.
Assess. What content do you have now? How can it be reused and repurposed to help bring new traffic to your website?
Review. We look at how your website currently ranks on Google and what factors might be holding it back. This review is included – many other companies charge for it in your first month of service.
Plan. Next, we set up your plan for the development of content. We determine what we're going to create, when, and how. The effort is led by our in-house content manager and a team of content experts.
Optimize. No content will be published until it is fully optimized. This means that we determine what keywords need to be targeted and ensure they are included naturally and appropriately. We also include internal and external links to help boost your site's trustworthiness.
Measure. Finally, we see how things are going. We don't simply put out content and call our work done. After all, if your content marketing doesn't bring in new, paying customers, it's not working! 
Once we know what's working, we double down on those efforts while pruning off any strategies that aren't effective. 
We have decades of combined experience on our team, and our experts specialize in helping small businesses improve their bottom line using excellent content marketing strategies. We understand what small businesses need more than any other agency because you are our focus. 
Get Started With a Free $999 Consultation Today
When you fill out the form below to book your call with Local SEO Search, Inc. you'll get a FREE 30-minute consultation with our owner and SEO expert, John Vuong. He'll review your marketing situation and let you know how we can help.
If you're ready to move forward with high-quality content marketing to grow your business, you may also be eligible for a FREE in-depth competitive analysis and keyword recommendations report. Many agencies charge for this during their setup or first month, but you could get it at no cost!
We value your small business and have helped over 10,000 other small companies succeed with SEO and content marketing. We'd love to help you as well. Fill out the form below and we'll be in touch right away!
Contact Local SEO Search, Inc. Today For Your Free Consultation!