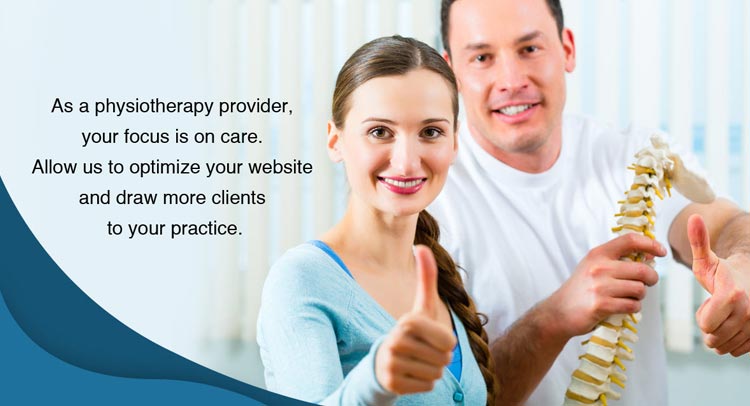 As a physiotherapist, your work is highly specialized. Helping people get back to normal after an injury or illness is your specialty, as well as helping people maintain their health and prevent injury and disease. 
You know a lot about how the human body works and you spend hundreds of hours learning the best practices of your field. What you may not know as much about, though, is how to bring in new clients.
After all, marketing is an entirely different field. It has its own tips, tricks, and strategies. It takes just as much focus to master marketing and keep up with changes as it does to specialize in any other work.
You're already busy. How are you supposed to implement a physiotherapy marketing strategy when you're taking care of patients?
The good news is that you're not in this alone. At Local SEO Search, Inc. we are experts in small business digital marketing. We can come alongside you and help you grow your business while you focus on what you do best – helping others get their lives back.
What is Physiotherapy SEO and Why Do You Need It?
When someone is hurt and needs rehabilitation help, they don't always know where to go. Sometimes you get direct referrals from doctors, but you can't always count on it.
What do people do when they need a service? They go online and search for it! They will search "physiotherapist near me," or they might look for "rehab in" and their city.
When they look online for providers, will they find you?
If you've been using the right physiotherapy online marketing, the answer is yes! You can optimize your website content using the keywords that people are most likely to search for. This is known as search engine optimization (SEO).
With SEO at the center of your physiotherapy marketing, you can bring in new leads regularly even if you don't do a lot of other marketing. 
How do you get started with SEO? We make it easy. When you contact us we'll set up a free 30-minute consultation so you can ask questions and discover exactly how we can help.
Ready to get started? Contact us today!
The Power of Local Physiotherapy Internet Marketing
As a local small business, you might wonder if physiotherapy SEO services are worthwhile for you. After all, you probably don't have as many resources to put toward it as larger companies. 
Can a smaller local business actually compete online?
Yes, you absolutely can! And the reason is very simple – it's the power of local SEO, which is optimization that takes advantage of local terms. 
You know that someone who needs rehabilitation services can't just choose any company in the world. They need a reputable service provider in their local area – the closer to their home, the better! As a result, folks who search for these services often include local terms, such as the name of the city, neighborhood, or street.
When your website is optimized to include keywords about your offerings, along with your city and neighborhood, it will make your pages highly relevant to the searcher. And Google loves to provide highly relevant results to users!
Not only will you rank more highly when you optimize locally, you'll also have a great chance to show up in Google's Local Pack. This highlighted section of the search results showcases local businesses that meet the needs of the user. It includes a map, company names, reviews, and contact information.
The best part about the Local Pack is that it is generally placed above the number one search result, which means those physiotherapy websites get even more attention than the top result!
Why Choose Local SEO Search, Inc. For Physiotherapy Business Marketing?
By now you can see that digital marketing is essential for your physiotherapy business. As a local small business, you have an advantage over other companies due to local marketing.
But why should you choose Local SEO Search, Inc.? Why not work with another agency, or even create your own digital marketing? 
Here are a few things to consider.
We Understand Small Business. You know that every patient you have needs their own unique plan. It's the same in digital marketing. Not only are we a small business ourselves, but we've helped over 10,000 small companies succeed online. There's no one-size-fits-all marketing here. We customize the plan for your unique needs.
You Want to Attract the RIGHT Traffic. Having traffic come to your website, whether through SEO or social media marketing or other outreach, is great – unless it's the wrong traffic. You don't want everyone, you want those that are in need of your specific services. That's how you get leads and new clients. We can tailor your SEO and website to bring in those who are most likely to buy now. 
You Deserve to Know Where Your Investment is Going. Some agencies will charge you thousands and be very vague about exactly how the money is used. Not Local SEO Search. We make sure you know exactly what we're doing and show you how your digital efforts are bringing in new leads.
Doing digital marketing on your own is a waste of time and money, just like trying to create your own rehab program. You need specialists who understand the landscape, which changes every day. We're excited to serve you.
Get your free consultation today!
Get Started With Physiotherapy SEO Today
Getting started with effective digital marketing is easy. Simply fill out the form below and schedule your no-obligation, free consultation. You'll speak directly with our founder and SEO expert, John Vuong.
He'll answer all of your questions and help you see exactly how we can help. Unlike other agencies, we won't even make an offer unless we're confident you'll see clear returns on your investment in the first year.
If you already know you're ready to get started with SEO and digital marketing, you may also qualify for a free report that reviews your keywords and competition. This research is worth $999 and is what many agencies charge for in your first month. With Local SEO Search, Inc., it's free! 
Ready to get started? Fill out the form now!